Resident Artist and composer Joelysa Pankanea takes you through her creative process in composing for an ARC production.
Dissidents…what a beautifully dark piece.
The script was sent to me months ago by Chris and I remember the morning I settled down on my couch with a hot cup of coffee to read it through. Now, you have to understand that every time I get a call from ARC with a new show on the horizon my insides squeal. I'm Joelysa, ARC's resident composer, and I love the work this company produces. Every new script is like a live theatrical episode of Black Mirror.
So back to my couch and hot coffee. Within the first few pages my head was swirling with sound. The glass barrier…I just couldn't get past it (no pun intended). Even the sound I was hearing had this muffled quality to it depending on what side I was on. Is it weird of me that the clearer side was HIS? Well, I'll work that out in therapy later.
By the time I was done, there was this pulse in me. Drones underlying sparse minimalist snipets of melody. Inspiration had hit. I got on Skype with Chris. Oh! Did I mention? I live on the other side of the country. Vancouver to be specific. So here's my challenge, (the same one I faced with our past production of Pomona) I work remotely from three time zones away. Yup. I can't be in rehearsals. I can't see the actors. I can't feel the vibe being created in the room. So what I do is meet with Chris and get all the adjectives I can for every area of the piece that music is concerned. My process from that point is this: say I'm writing music for Scene 4. I read, and read, and read, and read until my emotional state is completely in line with the scene (even if that means I'm crying like a baby and wiping snot on my sleeves), and then I compose.
For Dissidents I composed two tapestries. The first was The Little One. This piece was probably the slowest melody I've ever written, seriously, it's bathed in molasses! It features the bell-like celesta, childish and sweet, held up every so often with one or two carefully chosen notes on a solid Steinway grand piano. Underneath is a drone, a shade of ongoing sound just to keep us breathing lest we pass out from holding our breath between the notes of the slowest melody ever.
The second was Rupture. Rupture went through many makeovers before that perfect shade of gothic black arrived. It started out as a piece of dirty, dirty techno. For real, this thing sounded like it belonged in a German underground porn dungeon. So, yeah, we moved away from that pretty quick. But hey! No loss there. You see, someday someone will hire me and ask for a dirty, dirty techno piece and I'll have just the thing. Anyway, in the end Rupture turned out beautifully, and by that I mean 26 tracks of sweet mayhem. I drew on The Little One's bed track of low drones. Over that I built a sparse world of jarring percussive hits with Japanese Taiko drums, the lowest Indonesian gong I could muster, a variety of other African and Latin percussion, and some very weird electronics to keep the little hairs on our necks standing up. Here's a tip: look out for a cameo of The Little One…
Dissidents is a ride. Just get on it and let it take you. I hope that everyone who reads this gets out to see this show. And by the way, if you do, somebody let me know how the music turned out as I'm all the way in Vancouver! Thanks!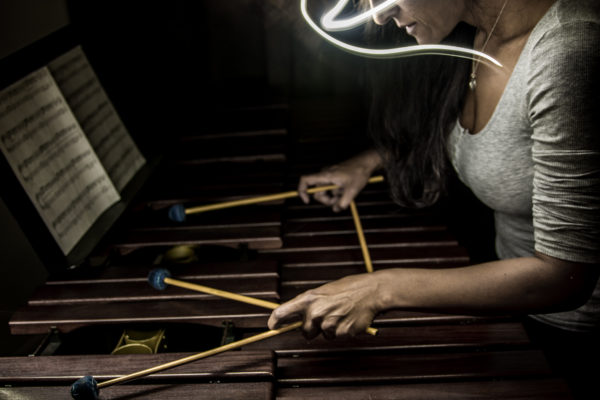 About Joelysa
Cemented in Canadian theatre history as one of the youngest theatre composers and musical directors, Joelysa's original scores have been celebrated across theatres in Western Canada since she began her composing career at the age of 21. A talented composer and musical director, her versatile abilities have taken her into the worlds of theatre, film, animation, and more recently, writing her own shows. In the realm of theatre, Joelysa is well known for her inimitable whimsical and haunting scores, as well as the ability to compose a wide array of musical styles. As one of the most sought after musical directors in her field, Joelysa has musical directed casts of 5-150 members. Her extensive body of work has earned her multiple awards and nominations, and she continues her dedication to preserving original and live music on the theatre stage.
Please visit www.joelysa.com to learn more about Joelysa or to hear her music.