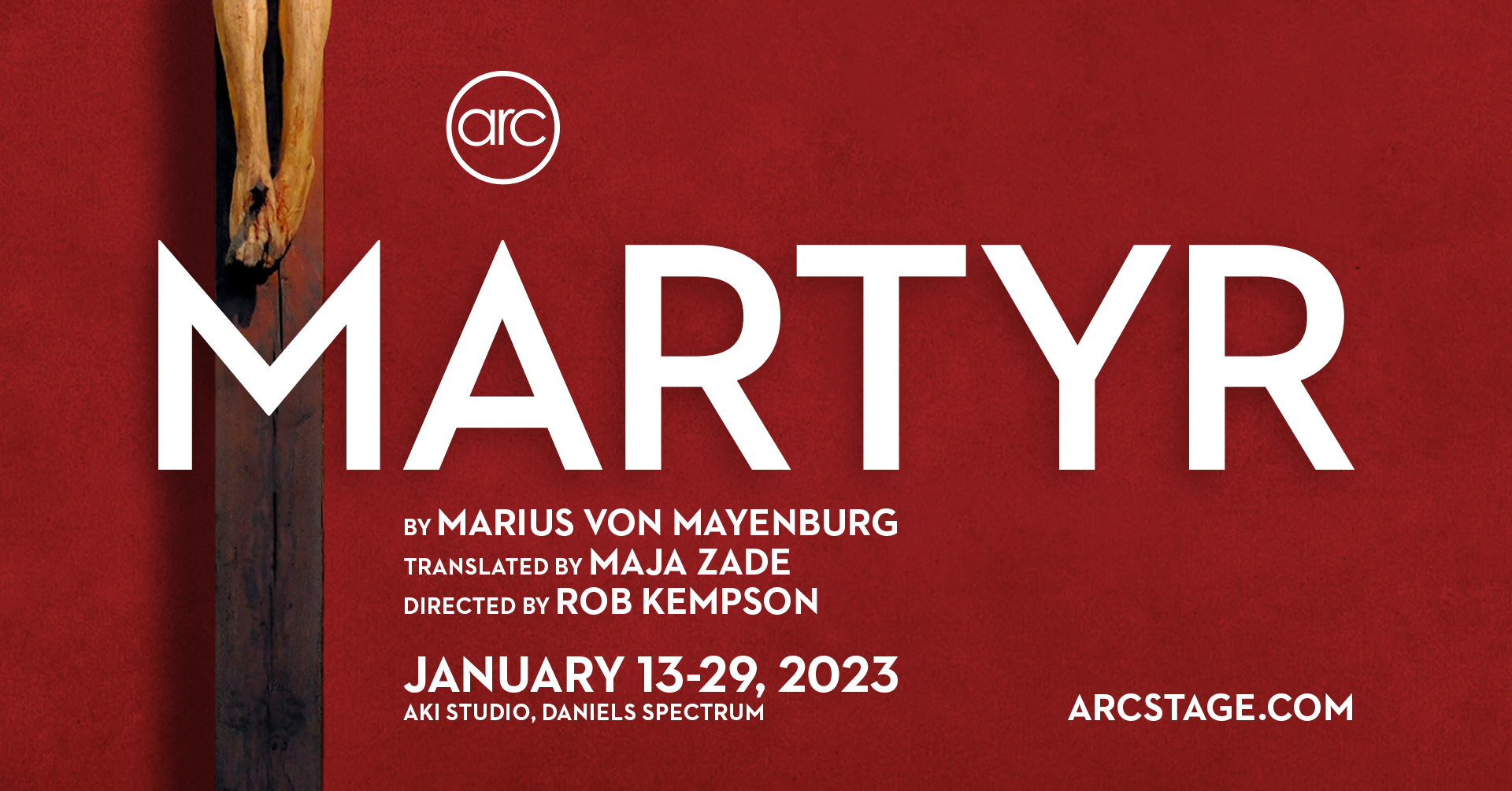 Benjamin won't swim at school. His mum thinks he's on drugs or has body issues. But Benjamin has found God, and mixed-gender swimming lessons offend him. But that's not where his newfound fervour ends. His conflicts only grow as his devotion deepens, causing issues at school, and at home with his family. The Canadian premiere, MARTYR asks questions about the limits of faith in a secular society. 
MARTYR first premiered at the Schaubühne in Berlin in 2012 and was then produced in Russia and France. The English translation premiered at the Unicorn (2015), the UK's leading theatre for young audiences, despite the fact that the play featured both nudity and significant bloodshed. It was produced in Chicago at Steep Theatre Company for the U.S. Premiere in 2015. This provocative play by one of Germany's most prominent playwrights, Marius von Mayenburg (translated by Maja Zade), questions the nature of community, and weighs the human systems of family and education against the pull and promise of faith. 
MARTYR is an ARC Production, directed by Co-Artistic Producer Rob Kempson, running from from January 13 to 29, 2023 in the Aki Studio Theatre at Daniels Spectrum, 585 Dundas St E  in Toronto.
A vivid portrait of puberty and zealotry. – The Guardian
---
CAST
Benjamin Sinclair: Nabil Traboulsi*
Erica White: Aviva Armour-Ostroff*
Ingrid Sinclair: Deborah Drakeford*
Vicar Dexter Menrath: Ryan Hollyman*
Marcus Dixon: Richard Lee
Willy Belford: Ryan Allen
George Hansen: Adriano Reis
Lydia Weber: Charlotte Dennis
CREATIVE AND PRODUCTION TEAM

Director: Rob Kempson*
Assistant Director: Taija Shonée Chung
Stage Manager: Tamara Vuckovic*
Assistant Stage Manager: Hannah MacMillan
Producer: Julia Dickson
Production Manager: Patrick Lynn
Technical Director: B.C. Batty
Set and Costume Designer: Jackie Chau*
Head of Wardrobe: Carlyn Rahusaar Routledge
Lighting Designer: Michelle Ramsay
Assistant Lighting Designer: Za Hughes
Sound Designer: James Dallas Smith
Intimacy and Fight Director: Jack Rennie
Publicity & Communications Strategist: Katie Saunoris
Livestream Director of Photography: Zev Shoag
Head Carpenter: James McKernan
Head Painter: Ksenia Ivanova
Blood FX Consultant: Alex Gilbert
* ARC Resident Artists
---
For further media information, please contact
Katie Saunoris | katiesaunoris@gmail.com |